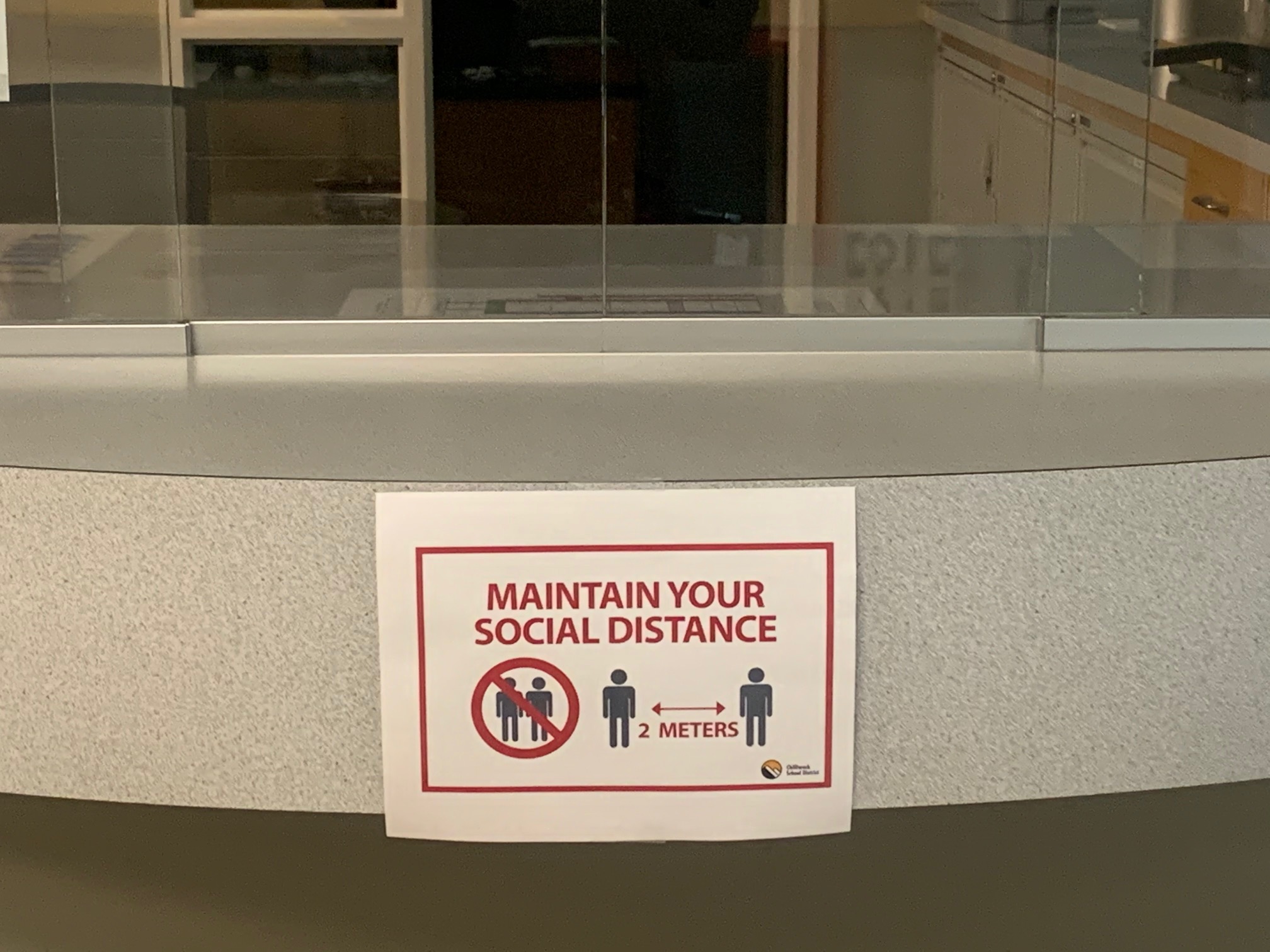 "Week in Advance" for:
June 1 - June 5
Please make note of the following Items and Dates of Interest for this week:
This week's email from our School Principal to all families:
Happy Sunday everyone!!!
As we enter the first week of June and the next phase of Student Learning this year, please make note of the following items:
The following attachments are included in this email (found on website):
Letter from the Medical Health Officer for Fraser Health
Letter from Mr. R. Fleming, Minister of Education
VMS Outdoor Education Academy Program Form
B.Y.O.D. Technology Program Information 
For students attending VMS for Tutorial Sessions and/or for In-School Care beginning this week, it is imperative that students understand that the following is adhered to:
Unless arriving by School Bus or already prearranged with the office, students are not to arrive on the premises until 8: 10 am each morning. Access to the building will begin at 8: 20 am.
When arriving, students are to line up on the sidewalk alongside the front of the school, on  designated markings, respecting social distancing rules, waiting to be invited into the school. Markings on the sidewalk adjacent to the hockey court are designated for staff entering the building.
Entrance and exit to the school will be through the Front Entrance ONLY. This includes students going to the portables as well.
Students will enter the building individually, sign in with the staff member at the door, wash their hands and then proceed directly to the classroom they are registered to be attending. Students who are not scheduled to be at school on any particular day, will not be given access to the building and will be directed to go home.
Upon completion of their tutorial/learning support session, students will be required to sign out at the front entrance, wash their hands and then leave the premises to return home. Please note that if a student takes the bus to school for a morning tutorial, they will need to have a plan for when their tutorial is finished with regards to going home. The option to remain in the building for the entire day, is not available due to our building capacity challenges. If a student is coming for an afternoon tutorial, then they will require personal transportation to the school, but, can take the bus home after school. We ask that if parents/guardians are picking up a student from the school that they are in the parking lot prior to the tutorial session scheduled dismissal time.
Students attending are required to bring their "tools for success" for their session/task they are being supported with, including but not limited to…. technology if provided by the school already, personal technological resources, textbooks if applicable, pencils, pens, etc. Students are welcome to bring their cellphones with them to class at this time so that they can be utilized to contact parents/guardians informing them when they are finished and leaving the school. If cell phones are used for any other reason other than what is expected, the student will no longer have the privilege of bringing it to school.
Students are not to share personal items of any kind
Students will no longer have access to a locker. All lockers have been sanitized and locks have been changed in preparation for September start-up. Students are required to bring home any items that they bring to school for their tutorial sessions. Items left behind will be disposed of as we do not have the capacity to store them.,
Students are to bring a water bottle with them. All water fountains in the building have been closed other than the water filling station. Students from Tier One Families, are expected to bring their own food as the cafeteria, vending machines, etc. are no longer available. In addition, Microwaves have been temporarily removed.
ALL students are expected to respect each other's "bubble" – that means no hugging, no high-fiving, no games that involve physical contact of any kind, and no standing too close to one another. We feel that this should not be a challenge for our students as they are mature enough to understand the rationale behind these expectations. 
Students will not be able to leave their assigned, scheduled tutorial classroom for any reason other than to use the washroom or to exit the build. Students will not be allowed to "visit" other classrooms and/or teachers. Their time at school will be for learning support only and not for socialization unless this has been prearranged between the home and the school for unique personal reasons.
Entry points to the school will be locked at all times. Therefore, parents/guardians wishing access to the school to speak with a staff member, pre-arranged or otherwise, are to remain outside the building and phone the office to receive permission to enter. When granted permission, parents will be expected to follow the same health and safety protocols that staff and students are following.
This past week all parents/guardians received information from teaching staff regarding scheduled, daily, tutorial support opportunities for their son/daughter. The tutorial support is designed to supplement the online learning that will continue to be in place until the end of this school year. For those families taking advantage of the opportunities provided, we are trusting that parents use sound judgement in completing the Covid-19 Health Screen for their son/daughter prior to them leaving the home each time. If students are experiencing any of the following symptoms…. Coughing / Sneezing / Fever / Sore throat / Shortness of breath-difficulty breathing / Congestion / Headache / Chills / Feeling unwell-fatigue / Aches and pains / Diarrhea / Nausea-vomiting /Allergy symptoms or sniffles…. they are to remain at home as they will not be given access to the school. If students arrive feeling well and then develop any of the fore-mentioned symptoms, students will be put in isolation and parents will be contacted to pick up their son/daughter immediately.
Due to a number of parent requests ………. The deadline date for interest in the Outdoor Education Academy Program has been extended to Thursday, June 4th. Interested students/families are to complete the attached Expression of Interest form and return it, by email, to myself  gabe_darchangelo@sd33.bc.ca prior to the end of the day, Thursday, June 4th.
The VMS PAC………. has asked that all parents take a few minutes to check the VMS PAC Facebook Page. The site has been set up to provide updated information on activities, events that the PAC is presently supporting and/or working on. In addition, it is also designed to be a venue for parents to share thoughts, ideas and clarify information that may have arrived home with their teenage son/daughter that doesn't make sense.
B.Y.O.D. (Bring Your Own Device)………. Due to the current on-line learning approach that is presently in place, Vedder Middle School has teamed up with STAPLES Chilliwack to implement their B.Y.O.D. Laptop or Chromebook Purchase Program to assist current/future students with their technology needs. Please see the attached informational document for particulars regarding this opportunity for all Grade 6 – 8 VMS students.
Library Books………. are due back this week. We ask that families make a concerted effort to look for any books that have been signed out and return them to the school allowing Ms. Higginbottom to do a proper inventory of resources available in our school library for students in September. Books that are returned can be left on the table outside the entrance doors at the school. Thank you in advance for your help with this request.
On behalf of our staff, I want everyone to know that we are grateful for the support, understanding and flexibility that families have shown us these past few weeks and throughout the year. As I indicated last week, our present situation is not what we envisioned "teaching" to be like. But unfortunately, this is the position we are in at this time and we take heart in knowing that this shall pass, and we look forward to a time in the near future where we can have all of our students back in our classrooms where they belong. In the meantime, take care of yourselves and your families!!
Have a great week!!
Gabe
Monday

1

Day 

School open to students attending pre-scheduled tutorials

Tuesday

2

Day 

School open to students attending pre-scheduled tutorials

Wednesday

3

Day 

School open to students attending pre-scheduled tutorials

Thursday

4

Day 

School Spirit Day - "Plaid Pals Thursday"
Outdoor Education Expressions of Interest Due today
School open to students attending pre-scheduled tutorials

Friday

5

Day 

School Spirit Day - "Viper Wear"
School open to students attending pre-scheduled tutorials